Full Name: James Mason
Marital Status: Married, to wife Heidi
Children: 4 (Natasha, Nicholas, Tatiana, Alexandria)
High School: St. Edward High School (located in Lakewood, OH)
College: Michigan State University
What is your previous experience as a wrestling coach, before founding WWC?
Mason worked as a graduate assistant coach at Michigan State University, as well as an assistant coach at Detroit Catholic Central.
What about your experience as a youth wrestler?
"I began wrestling at St. Charles Borromeo Parish in Cleveland before going to St. Ed's for high school and then Michigan State for college."
Tell us about your motivation to begin coaching.
Mason stated that his motivation to become a coach was, primarily, his son. He remarked, "I have always enjoyed coaching my children in any of their sports. My wife strongly urged me to coach my son in wrestling. Her words: 'You have coached every sport your son has played, except the one you know the most about. Your son is begging you to coach him in wrestling.' Since there were no youth wrestling clubs in the Ann Arbor area, I started one."
You have told us about your motivation to begin coaching, but what is your day-to-day inspiration as a coach?
"I can honestly say my father. When I was younger and just getting out of college, I wasn't done with the sport but I hadn't started coaching yet. My father told me that I needed to start giving back to the sport that gave so much to me."
What are your primary responsibilities within the club?
Mason remarked that there are "many facets to coaching, not just making winners out of kids." As a youth wrestling coach, he believes that one of his biggest roles is a mentor for young boys, helping them develop into young men, as well as build character.
Can you list some of your goals for the club?
His main goal is "to develop fundamentally sound wrestlers, so when they find a high school coach, that coach will be pleased they have a solid wrestler on their hands."
What are some of your goals as a coach?
"One of the main goals I have as a coach is to ensure kids are properly introduced to the sport, to enjoy the sport. I work to instill respect of parents, respect of elders and respect of teachers in each of my wrestlers. And to help them build character and teach them life lessons. My goal is to develop smart kids, not just jocks. There is nothing better than a wrestler who wants to become a doctor, pharmacist, etc. That begins to shatter all stereotypes of jocks and of wrestlers."

If you had to name your favorite aspect of coaching, what would it be?
"My favorite aspect of coaching is teaching the kids the Spiral, my patented move." Bringing some of his own success within the sport to his wrestling room is both satisfying and enjoyable.
How about your least favorite aspect?
Without hesitation, Mason remarked, "The parents. The kids are great, it's managing the parents that's difficult- the over-zealous parents who are too invested in their child's success in the sport, as opposed to their child's involvement or general happiness."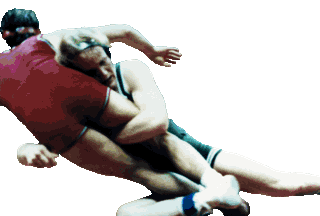 What is the most rewarding aspect of coaching?
"When you reach a kid and a light goes off in his head. Not that he becomes a state champion, but he gets it and understands what I am asking of him. I believe in these kids before they believe in themselves, and that is why I have so much success with these kids. It is great when you work with a kid that everyone else has given up on, for some reason, and establishing mutual respect and helping them develop into a good wrestler and athlete."
And the most challenging?
"Working with the kids who are great wrestlers, the ones who have some knowledge of the sport, but think that they know it all, and refuse to obtain a deeper knowledge of the sport."
What is your advice for any youth wrestler?
"If you can hang with me, you'll be a champion...in wrestling and in life."
Do you have a favorite quote, or a quote of your own?
Mason has two of his own: "I'll take a room full of average wrestlers with heart and desire and passion, and I'll beat a room of talented wrestlers without the heart and desire and passion."
And "Most people say practice makes perfect. I say practice makes permanent. Permanent practice makes perfect."
What is your coaching "motto?"
"'If you don't mind, it doesn't matter. If it doesn't matter, you don't mind.' This is something I got from my college coach."
What do you value the most in the sport?
"Pure integrity."
And, finally, some more fun questions:
Favorite TV show: Deadliest Catch and Swamp People
Favorite movie: Braveheart
Last listened to song: Eye of the Tiger
If you could do anything with your life, other than what you are doing now, what would it be?
After a moments thought, Mason decided on, "driving a speedboat down in the Caribbean, giving people para-sailing rides."
Sample WWC practice:
Wolverine Wrestling Practice 11/13/06
Natasha Mason-MichiganWrestler.com- 9/28/2013